About
Elisabeth Rechsteiner (Retired)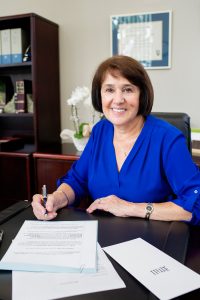 Elisabeth was born in Switzerland, came to Canada at the age of 2 and grew up on a dairy farm in the Fraser Valley. In her 20s, she worked for a downtown Vancouver law firm, as a legal assistant and conveyancer, and retired from that position in 1982 when her first son was born. Elisabeth became a "stay-at-home" mom for 13 years until her three sons reached their teens. To get back into the workforce, Elisabeth took on a part-time position with Lorraine Wait, Notary Public in 1996. In 2000 Elisabeth was commissioned and appointed by the Supreme Court of British Columbia as a Notary Public in and for the Province of British Columbia. In 2001, Elisabeth took over the practice of Lorraine Wait and has been privileged and honoured to provide notarial services to citizens of Burnaby, and beyond, for the past 21 years.
Elisabeth has enjoyed being of service to the public, meeting a large variety of people from various walks of life and being in a position of "helping you with what matters"! Elisabeth is retiring effective May 1, 2022 and is pleased to announce that the notary practice is being taken over by Maryam Soheilsayar. Maryam was commissioned as a Notary Public and has been working with Elisabeth for the past two years. Maryam also has many years experience working with other notaries/lawyers, and in the mortgage department of a major lender. Clients can rest assured that the notarial practice will be in good hands with Maryam, that all work done in the past 21 years remains on file with the office … and that Elisabeth will continue to be in the background as a consultant, should the need arise.
Elisabeth is excited about entering into the next phase of her life… retirement!!!… and wishes to thank all the clients who trusted her in assisting them with their notarial work over the years…. and wishes all of you good luck, good health and much happiness in the years to come.
Maryam Soheilsayar

Maryam was born in Iran-Tehran and moved to Canada in 2000. She received her Bachelor's degree in Business Law in 2009 from Carleton University in Ottawa, Ontario. Shortly after she moved to B.C., and was exposed to the legal field very early in her career. Prior to becoming a Notary Public, she worked as a Senior real estate legal assistant and a Senior Conveyancer in legal professions. She completed her Master's Degree in Legal Studies from the University of Simon Fraser in 2020 and successfully passed the statutory examination and became a member of The Society of Notaries Public of British Columbia in the same year.  Later she joined Elisabeth's office as a staff Notary Public, and with her help and guidance she was able to start her own business, where she ended hers in May 2022.
Maryam's goal is to help clients smoothly through such events as a purchase, sale or mortgage of a home, as well as estate and personal planning and to offer friendly, personalized service every step of the way.